The Sandman Will Keep You Awake - The Loop
Play Sound
Anubis
Film information

Directed by

Produced by

Lori Forte
Guillermo del Toro
Glen Keane
Jerry Davis
John C. Donkin
William Joyce

Music by

Fernando Velázquez

Cinematography

Renato Falcão

Editing by

Andy Keir

Release Date(s)

March 23, 2018 (formerly)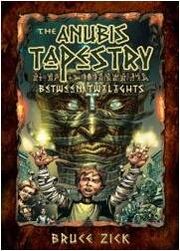 Anubis was a film that was set to be released by Blue Sky Studios and 20th Century Fox on March 23, 2018 but has been removed from its schedule in June 2017.[1] On December 14th, The Walt Disney Company announced it would purchase sections of 21st Century Fox that deal with entertainment rather than news after those portions are spun off to become an independent company.[2] As of December 31, 2017, no information is available as to how the proposed acquisition might affect its production and release.
Plot
TBA
Cast
TBA
Trivia
The film schedule was originally to be released on July 15, 2016, but was moved up to March 23, 2018 due to the change in the release date for Ice Age: Collision Course, delayed a week to avoid premiering at the same time as Ghostbusters from Columbia Pictures.
This would have been the 4th Blue Sky Studios film not to be scored by John Powell, as the film was planned to be scored by Fernando Velázquez; the first three being 2002's original Ice Age film, 2013's Epic and 2015's The Peanuts Movie.
This would have been the 4th Blue Sky Studios film to be directed by Chris Wedge.
Gallery
References
External Links