For other uses, see Ice Age (disambiguation).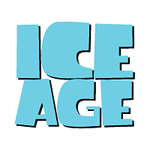 Ice Age is a popular computer animated comedy drama adventure movie franchise, created by Carlos Saldanha and Chris Wedge of the comedy and drama genre. Set in the ice age time period, it follows the adventures of fictional mammals consisting Manny the woolly mammoth, Sid the sloth, Diego the saber-tooth tiger, Ellie the woolly mammoth which becomes Manny's wife, Crash and Eddie the opossums, Manny and Ellie's daughter Peaches and Scrat the saber-tooth squirrel.
All movies and shorts have been produced by Blue Sky Studios and distributed by 20th Century Fox. The franchise has received PG rating[1][2] The films have met audience and financial success, grossing over $1,900,000,000 worldwide in their theater run.
Film series
In the ice age period, three animals, Sid the sloth, Manny the mammoth and Diego the saber-toothed cat go into an adventure to return a baby to a human tribe that has left for their campsite; however, Diego had been sent secretly by Soto, the sabers' pack leader, to bring the baby and mammoth to a place known as the Half Peak so they can ambush them and kill them.
Global warming affects the environment and an immense amount of water threatens to flood the valley where Manny, Sid and Diego now lives all while the animals of the valley make fun of Manny for apparently being the last mammoth. While the trio travels to a boat that will take all the animals in safety they will meet an eccentric and sarcastic female mammoth named Ellie, that believes that she's an opossum, and her adoptive brothers, the two pranksters and meschievous possum brothers Crash and Eddie. currently living at.
They have to go to the other side of the valley, where there presumably is a giant tree that can act as a boat to save them.
Meanwhile, Manny is teased about being the last mammoth, but he finds Ellie, a female mammoth, who thinks that she's a possum.
Manny and Ellie are waiting their first baby while Diego wonders if he's becoming too soft lately and decides to leave the herd.
Sid grows jealous of Manny and Ellie and adopts three apparently abandoned eggs that hatch into T-Rex baby dinosaurs.
The next day, a T-Rex takes the babies and Sid and the herd follow them, getting into an underground world where dinosaurs lived secretly for millions of years.
Meanwhile, they meet a crazy and adventurous one-eyed weasel named Buck, who's been living underground for years and helps them on their way.
After Scrat accidentally caused the continental drift, Manny, Sid, Diego and Sid's granny are separated from the rest of the Herd and are stranded in ocean on an iceberg.
While they try to get back home, they will have to face a group of evil pirates led by an evil and murderous Gigantopithecus named Gutt that is determinate to not let them go back to their family.
Manny, Sid, his granny, and Diego all meet pirates and battle until Manny gets home.
When a cosmic meteor shower caused accidentally by Scrat threatens Earth, Manny and the Herd are forced to leave behind their homes. They reunite with Buck and has to stop the asteroid from destroying Earth while they're chased by an evil Dakotaraptor named Gavin which is helped by his two children Gertie and Roger. They also discover the exotic Geotopia, populated by immortal animals.
On 2016, on a possible sixth film, Galen T. Chu said that there are some ideas for the next installment.
On 2017, after the negative welcoming of the fifth film, Mike Thurmeier said on Twitter that he would like to bring the sixth film back to the series Golden age and he's interested on making the sixth film focusing on the return of the human baby of the first film, Roshan.
The sixth film is most likely being considered by Disney after the studio bought Fox and depends on if the Buck spin-off film will be successful or not. After the closing of Blue Sky Studios it will be produced by Fox only.
Spin-offs
Main article: Ice Age: Adventures of Buck Wild
After the aquisition of 20th Century Fox and Blue Sky Studios from Walt Disney Pictures, it was announced that a Buck spin-off was in development for Disney+. However, in December 2020, it was announced that it will be a film titled "Ice Age: Adventures of Buck Wild" and will be released in early 2022 while premiering on Disney+. It's currently unknown if it will get a theatrical release too. The film will focus on Buck, Crash and Eddie going on an adventure in the Dinosaur World.
Television series
Ice Age: Scrat's Tails
On April 2021, it was announced that a series of shorts centering on Scrat titled Ice Age: Scrat's Tails is in development with some clips that revealed that the series will feature Scrat trying to teach his son how to catch acorns.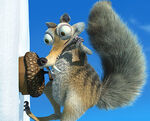 Movies have a subplot, where an animal named Scrat makes many comical attempts to bury his acorn, which he loves a whole bunch. Scrat's misfortunes include getting chased by an enormous glacier, being stuck under the foot of a female Macrauchenia that steps on him at every step she makes, being struck by lightning, trying to thaw out his acorn by a fire too long so that it accidentally took the form of a kernel of popcorn, getting kicked off a nest by a father Condor while he was trying to get his acorn back, finishing in a bubble, being stranded in a desert with no acorns and at then getting frozen in an ice cube, along with his much sought after nut 20,000 years into the future.
Main Characters and Cast
The only character seen on all Ice Age shorts is Scrat.
Various Information
Basic Info
Box office statistics
| Movie | Opening day | Opening Weekend | Domestic Gross | Foreign Gross | Worldwide total |
| --- | --- | --- | --- | --- | --- |
| Ice Age | $13,468,085 | $46,312,454 | $176,387,405 | $206,869,731 | $383,257,136 |
| Ice Age: The Meltdown | $21,788,862 | $68,033,544 | $195,330,621 | $465,610,159 | $660,940,780 |
| Ice Age: Dawn of the Dinosaurs | $13,791,157 | $41,690,382 | $196,573,705 | $690,113,112 | $886,686,817 |
| Ice Age: Continental Drift | $16,728,341 | $46,629,259 | $161,321,843 | | |
| Ice Age: Collision Course | $850,000 | $21,373,064 | $63,871,492 | $340,458,906 | $404,330,398 |
Critical reaction
Shorts
There have been several released short feature films, in which Scrat has been the main character (expect for the third, which focuses on Sid).
Merchandise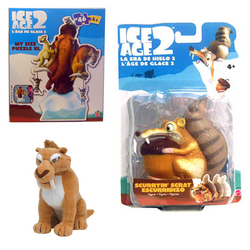 The Ice Age series has had a variety of merchandise, including video games, Pez dispensers, plush dolls, action figures, and puzzles for small kids.
Trivia
As suggested by the first film, the movies take place around 18,000 B.C.
The original movie was originally intended as a drama, but Fox would only accept it as a comedy with drama moments.
Chris Wedge, the director of Ice Age, is the voice of Scrat. The name "Scrat" is a combination of the words "Squirrel" and "Rat," as Scrat has characteristics of both species.
Despite almost all the movies of the franchise focus equally on both Manny, Sid and Diego there are some exceptions. As an example in the third film Sid is the main protagonist of the story and the film focuses mainly on him while in the fifth film Sid and Diego are more like supporting characters than true protagonists differently than the other movies.
At some point after the Ice Age movies (as shown in the epilogue of the first movie), Scrat was frozen while in pursuit of his acorn and thawed out 20,000 years later on a tropical island. However, he lost his nut again.
Interestingly, the Ice Age franchise is one of those franchises that didn't get welcomed well by film critics but instead got better appreciated and welcomed by audiences. However the fifth film was hated by both of them.
The Ice Age movie series always has traveling to a certain place as a part of the plot, but the

main characters

have never actually reached their destination.

They gave Roshan back to his father at

Glacier Pass

and never got a glimpse at the

human settlement

.
They survived the flooding of the

Great Valley

, thanks to Scrat, but they never actually reached the

Boat

.
Sid was rescued at the

Lava Falls

and he was brought back by Buck and Crash and Eddie while Ellie was giving birth, with Diego and Manny's help. *

* The first three movies were highly praised from audiences often being called as three of the best animated movies ever made. The fourth film was less positively welcomed than the first three but fans thought it was still a good movie despite not exceptional. The fifth film caused a split between the audiences and fandom alike.
See also
List of Ice Age characters

List of songs featured in the Ice Age films

List of Ice Age video games

Ice Age epilogue
References
External links